The Internet of Everything: an insight into IoE concept that will transform the world
While everyone is aware of the Internet of Things, the term of the Internet of Everything (IoE) is still fairly new. However, experts predict IoE fast evolution, with cities and governments taking initiatives in the field of IoE.
In this post, you'll find the answers on what is the Internet of Everything, what is the difference between IoT and IoE, and what growth prospects and use cases does it have.
What is the Internet of Everything?
The Internet of Everything is a concept that goes beyond the Internet of Things and encompasses machine-to-machine (M2M), people-to-people (P2P), and people-to-machine communications (P2M), thus describing a more complex system and opening up new business opportunities.
According to Cisco, IoE is about "bringing together people, process, data, and things to make networked connections more intelligent and valuable than ever before, turning data into actions that create new capabilities, richer experiences, and unprecedented economic opportunity for businesses, individuals, and countries."
By delivering the right data to the right person/machine at the right time and transforming data into valuable information, IoE provides businesses with the ability to take the right actions and make more fast and successful decisions.
Though the concept is rather new, Cisco experts predict IoE great future and say that by 2020 it will generate $4.6 trillion in value for the global public sector, helping organizations reduce costs, drive higher revenues, and improve the entire performance.
Since the Internet of Everything is going to offer such benefits as effective control over the environment, automated and improved decision-making (by both people and machines), faster economic growth, and increased public security, specialists will focus on its further evolution.
IoE elements
The Internet of Everything includes a variety of connected devices that gather and transmit data, communicating to each other and representing the Internet of Things. While connected things and machine-to-machine communications are about IoT, the concept of IoE goes beyond and besides things consists of such important elements as people, data, and processes.
1. Things
This IoE element represents a wide range of physical objects that can include sensors, meters, actuators, and other kinds of devices, connected to the Internet.
They are responsible for collecting and transmitting data as well as providing real-time information enabling both people and machines to make right decisions or take certain actions.
There are a plenty of examples of such things: smart meters communicating and managing energy consumption, smart sensors allowing to control vehicle performance, smart objects communicating medical equipment performance, smart transportation systems optimizing traffic, and a lot more.
2. People
The second important IoE element is people, that connect to the Internet via their smartphones, tablets, computers, and social networks.
Concerning interactions of IoE components, they can include sensors on skin or clothes, that gather and transmit data, monitor health conditions, and inform healthcare providers (doctors, hospitals, etc.) about deteriorations.
So, with the Internet of Everything appearance and growth, the interaction of people on the worldwide web will quickly evolve.
3. Processes
There is a wide range of processes that can be automated and improved with the Internet of Everything. They include organizational, technology, business, and other types of processes, that will need careful management and smart acceleration. Imagine, for instance, an assembly line robots automating factory floor processes.
Processes have a direct impact on the way people, things, and data interact with each other. Together, these entities can deliver richer experiences, economic value, and smart automation.
4. Data
Connected devices collect data and send it to a central source for their further analysis. By gathering and processing large sets of data businesses get the ability to improve and accelerate decision-making.  
However, since the value of some data quickly vanishes and instantly stops being actual, not all data should be stored or even can be stored.
So, soon we'll see the emergence of smart things that can transmit advanced data back to central sources, machines, and people in real-time, in order to be transformed into actionable information and right decisions.
IoE use cases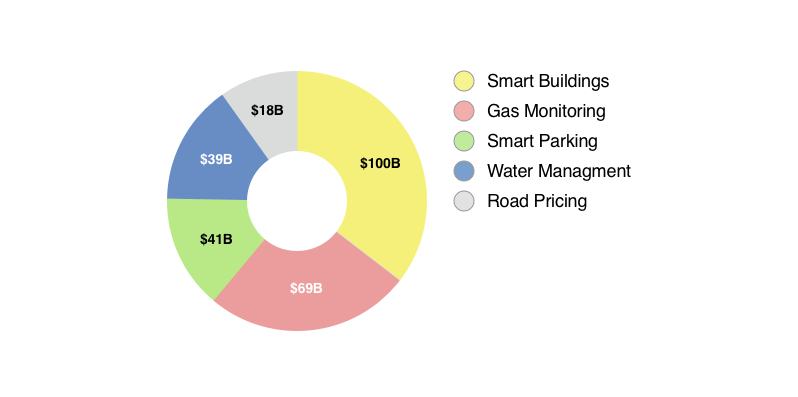 1. Water and gas management
With IoE evolution, companies get the ability to link the household water and gas meter to an IP network to receive and analyze remote real-time data on consumption level and status.
Thanks to providing intelligent water and gas management people, cities, and countries will decrease water and gas consumption by citizens, reduce labor and maintenance costs, and ensure effective water usage.
2. Healthcare – Chronic disease management
The Internet of Everything offers healthcare providers more capabilities. Top-priority fields for IoE are remote patient monitoring and chronic disease management, including such diseases as congestive heart failure and diabetes.
With enabled people-to-machine, people-to-people, and machine-to-machine communications, organizations will create effective patient and home monitoring systems, innovate patient treatment, and create intelligent patient statistics.
3. Traffic management and road pricing
This is one of the most perspective and large domains for the Internet of Everything. It encompasses transportation management, traffic optimization, bridge maintenance, and subway train control, leading to the improvement of traffic conditions and reduced traffic congestion.
Also, by using IoE solutions new road pricing models will be created, including vehicle records, vehicle payment systems, and parking payments, resulting in lower costs, savings in road expansion, and decreased CO2 emissions.
Considering road pricing from IoE elements' point of view, data will be represented by vehicle records and payment prices, processes – by pricing and payment, people – by vehicle drivers and traffic wardens, and things will include sensors and other devices collecting and transmitting various data.
4. Citizen services
The Internet of Everything provides governments with the possibility to significantly improve citizen services. Since IoE is about large amounts of data collected by multiple devices and requiring to be processed, IoE can allow creating services that leverage Big Data to drive machine-to-machine communications for citizen delivery.
5. Energy consumption
Another field where the Internet of Everything has great potential is energy consumption. Today the policy of many countries is aimed at decreasing energy consumption and reducing household expenses. For instance, the main purpose of the United Kingdom's Smart Metering program is to provide the visualization of energy consumption in every household.
6. Connected learning
By making students, teachers, university campuses, and universities connected, companies, cities, and governments will create strong educational environments and provide quality learning experiences.
Here IoE solutions can also help optimize the use of electronic resources, improve instructional and training processes, ensure data-driven decisions, and reduce instructional supplies.
Thus, the Internet of Everything expands the term of the Internet of Things, also covering data, people, and processes, and bringing new capabilities into the business world, with the emergence of new applications and software solutions.