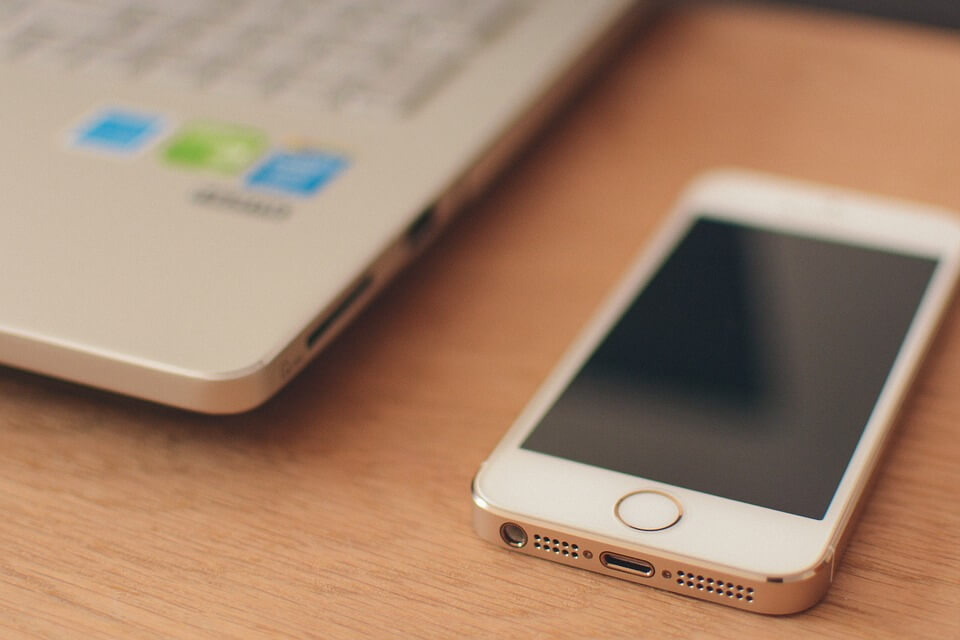 The Internet of Things in action: 7 IoT applications in manufacturing industry
The Internet of Things significantly impacts our lives, from smart refrigerators and home automation systems to smart cars and smart buildings. In the coming years, IoT will undeniably continue to take the center stage in the technology world. IDC report predicts that global IoT spending will reach $1.29 trillion by 2020 and about $1.4 trillion by 2021.
Wishing to improve internal business processes, automate workflow, and cut costs, many companies and organizations make huge investments in IoT solutions, with the principal spendings from manufacturing, transportation, and utility industries.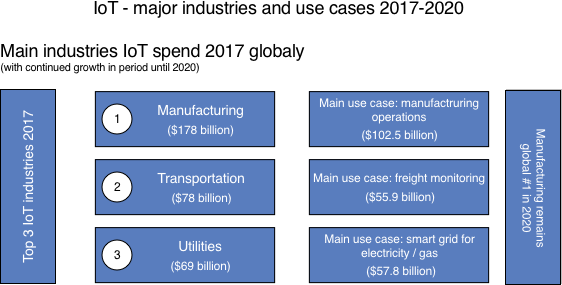 For today, manufacturing is still the major investor in the Internet of Things. As with smart connections of devices, machinery, and production stages, manufacturers can get a minimized human intervention, efficient equipment maintenance, employee safety, and successful process management, most of them believe that now is the right time to invest in IoT.
Here is a bit of impressive statistics for IoT in manufacturing:
66% of industry-related companies claim that the integration of IoT technology is essential for staying competitive and achieving success.

According to PwC and MAPI survey on IoT in manufacturing, 31% of manufacturers are adopting IoT strategies to their internal processes, with another 56% implementing IoT solutions to reduce operational costs, improve supply chain coordination, and enable predictive equipment maintenance.

56% of manufacturing companies have already invested $100M or even more in smart factory initiatives.

Smart factories are revolutionizing a manufacturing industry by allowing a 7X increase in the overall productivity by 2022.

According to analyst predictions, smart factories have the potential to add $500B to $1.5T in value added to the global economy in 5 years.

76% of manufacturing companies have a smart factory initiative or are working on defining one, with 14% of manufacturers being satisfied with the accomplishment level.
There is a plenty of IoT applications in manufacturing industry: equipment health monitoring, vehicle and asset tracking, temperature management, air quality control, energy conservation monitoring and control, facility management, smart ventilation, production flow monitoring, predictive maintenance, smart radiation monitoring and measurement, and a lot more. In this post, we'll consider the top-priority IoT use cases in manufacturing. So, let's start.
The main IoT applications in manufacturing industry include:
1. Production monitoring in real-time
By collecting real-time data and connecting production stages you can easily track production line status, minimize waste and unnecessary work in process inventory and various manufacturing operations, and better manage operational costs.
What's more, by providing cross-channel visibility into inventories and communication transparency you optimize the entire supply and effectively monitor production flow.
2. Product quality control
With the Internet of Things, manufacturers can aggregate large amounts of product data, information about customer preferences and behavior, and instantly detect and correct product quality issues.
Moreover, they get the opportunity to implement necessary enhancements and improve quality indicators, thus achieving high-quality production that meets client needs and expectations.
3. Remote equipment monitoring and management
With IoT solutions, you can get the ability to remotely manage equipment, considering temperature limits, energy conservation indicators, and other settings to prevent problems, maintain machinery health, optimize energy consumption, and reduce costs.
Noteworthy that here IoT and Blockchain work together. The technology can enable smart devices to communicate data, monitor equipment conditions, order repairs and parts for replacement, and even complete financial transactions.
Also, you can implement condition-based maintenance notifications to remove equipment failures and increase general performance and cut service costs as a result.
4. Supply chain management
By generating and making smart insights into the data from various operations and business systems and data from suppliers and customers, you can get a full view of your supply chain processes.
What's more, with IoT applications you can enable successful decision-making and issue resolution through real-time data and operation monitoring. Asset, vehicle, and location tracking will allow you to automate the delivery of finished products and improve scheduling.
5. Advanced planning
The aggregation of real-time production and inventory data can help manufacturers to improve planning and scheduling processes, ensure strong collaboration between company departments, and minimize waste. What's also important, you get the ability to create flexible schedules that fastly adapt to changing condition and arising issues.
6. Anomaly detection & Safety issues
The integration of multiple IoT devices and predictive analytics, you instantly detect any anomalies, potential breakdowns, and damages, and solve them on time. Let's take, for example, equipment monitoring.
IoT solutions predict when some issues will arise, alert manufacturers, and order repairs or replacements when required. Use cases also involve restocking inventory, safety monitoring, and the identification and prevention of quality issues.
7. Field service process optimization
IoT solutions can be successfully used for transmitting operational data to partners and field service employees for remote business process acceleration, control, and optimization.
The intelligent connectivity of various devices and mobile apps has enabled high-automated service with reduced costs.  
Like in other cases, here IoT can effectively be used for preventing damages and breakdowns, avoiding downtimes, and warning field workers about potential problems, system malfunctions, and more.
Thanks to using IoT technology, companies can create schedules, considering worker skills, experience, certifications, available spare parts and time. By improving scheduling you optimize the work of your field service staff.
If you have some discussion issues or a project idea, you're welcome to apply to us and receive a free consultation! Having high expertise in IoT application development, we are always ready to provide you with meaningful recommendations!