What is Project Health Checkup and why do you need to conduct it regularly?
There is an almost zero probability that you have never encountered any stumbling blocks or severe problems while working on an IT Project. And if it's true, then you already know how costly it can be to face the consequences. Prevention is better than cure, remember? 
Problems like vague requirements, absence of proper project planning, data leaks, server crashes, software incompatibility, low performance indicators, and others – are just one of many examples that can become your personal experience if you don't take actions beforehand. And this is where Project Health Checkup gives you a hand!
What is Project Health Checkup? 
Do you visit your doctor only when you are seriously ill? I assume (and I hope) that you visit doctors regularly for your body health checkup. People that do care about their health state at least once a year go through a total body examination. Why? To make sure everything's fine and prevent potential threats if any exist. Projet Health Checkup servers the same purpose, but instead of inspecting a real physical body, professional people check an IT Project in order to find latent defects, germs of any problems. As a result, those responsible for the project get a full picture of what's going on in their Project, its bottlenecks and vulnerabilities so that the team could plan necessary actions for the Project's recovery or Project's enhancement. Forwarned is forearmed.
Project Health Checkup is a recommended regular procedure provided either by your software development team or your project maintenance team. Its main goal is to assess the current project's state, its KPIs, and make sure everything is going according to the plan and all the project's aspects are under control. The results of this check are further analyzed and put into a detailed Project Health Report. An indispensable part of the Report – a reasonable conclusion together with the instructions on further actions.
What is included in the Project Health Checkup procedure?
Smartym Pro's team has been practicing such an advantageous feature in the majority of projects for a couple of years already. The results weren't' long in coming – we started to see what's going on in the projects we're involved in, even the most unobvious minutiae that would've led a project to disaster if we hadn't revealed them on time while checking its state. Consequently, it gave us an opportunity to shape a brand new approach towards our projects, the way we manage them, the tech stack we're using, etc. It helps a lot when it comes to delivering outstanding products to our customers. Throughout the years of practicing Project Health Checkup, we've accumulated enough experience to start suggesting this procedure as a separate service that has become a part of our IT software maintenance services.
So what does actually Project Health Checkup include?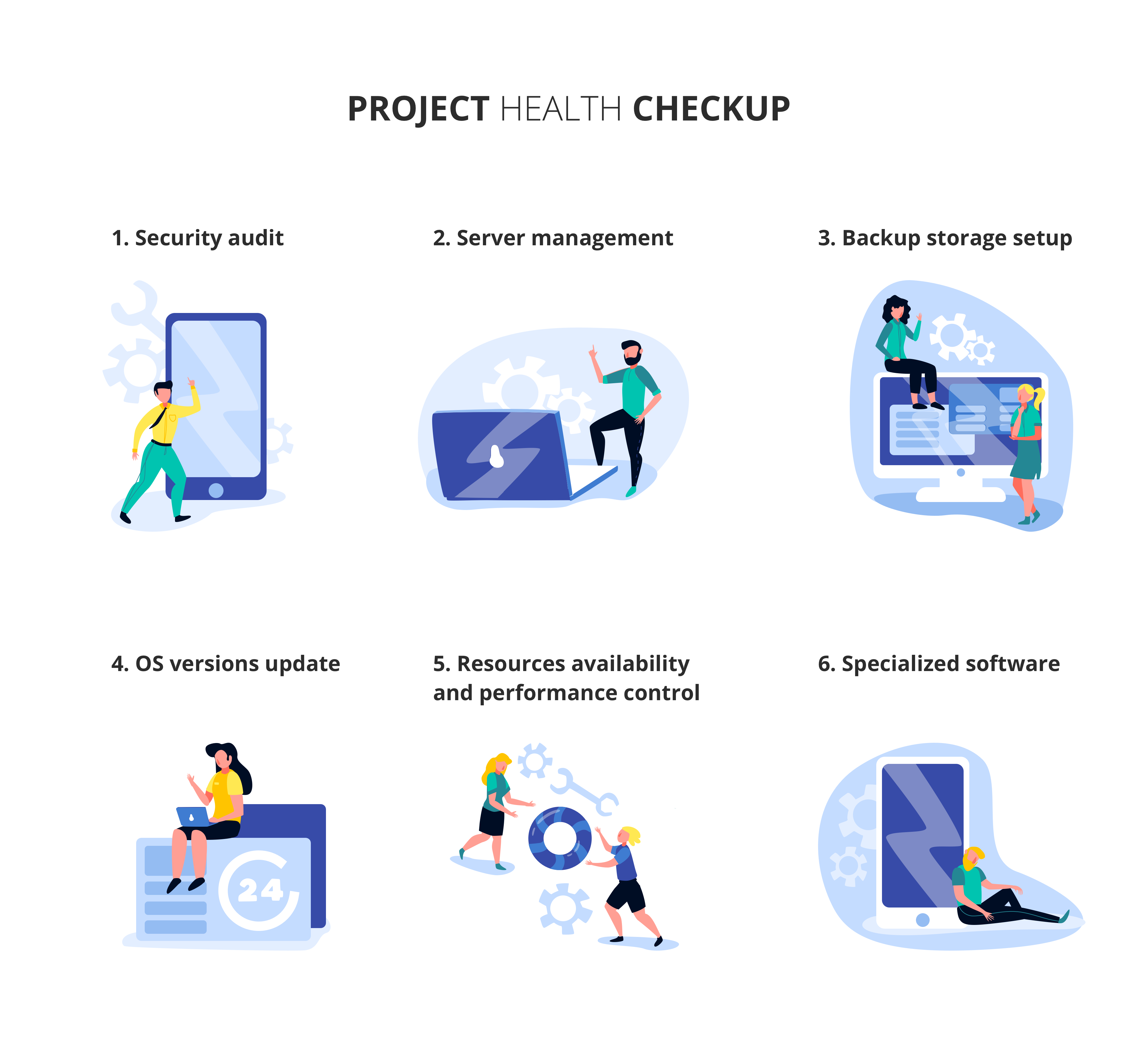 The security of a system is the most important thing when it comes to gaining your customers' trust. Security leaks can appear out of the blue since hackers are always on the lookout for new ways of fraudulence. Moreover, security bottlenecks can also be caused by inaccurate infrastructure.
Security Audit is meant to find any potential risks and threats. There can be both manual security checks and automated (made by a so-called CAAT – computer-assisted audit technique). In the process, the project is being examined for compliance with common cybersecurity standards, the documentation is being observed to see if everything is stored safely and there's no chance for illegal access to sensitive data, event logs are reviewed for any suspicious activities, etc.
Server management is needed for monitoring physical and virtual servers. Monitoring helps recognize errors and faults before they have a serious impact on the whole system/project. Moreover, thanks to server management as a part of Project Health Checkup we can review the capacity and performance indicators of the servers and scalability capabilities. 
It's better to find out that there is little memory available, or there are CPU issues now, then to deal with the consequences after.
Nowadays digital data is more precious and valuable than physical objects, therefore it's beyond important to have a safety pillow. A backup storage is important for any project, so within the Project Health Checkup we ensure that the storage exists, and if it's not – we set it up and make sure that the existent settings don't conflict with anything in the project. Another thing to investigate is the backup storage capacity, keeping in mind that in the future the project can be drastically scaled.
Operation Systems get updated frequently, and if you miss any of the important updates there is a chance that your whole system will shut down due to incompatibility faults. It's vital to ensure that your software is ready for updates. Perhaps some code refactoring will come in handy in this case. Sometimes it happens that with a new OS version some technologies become no longer supported, especially legacy ones, hence there appears an emergency need to find a replacing solution. In order to not let any mistakes happen because of the versions updates, we make sure the technologies we use are not legacy and that once the version is updated, our project is ready to comply with all the changes. 
Resources availability and performance control
Here we're talking about both the technical resources and labor resources available, as well as the resources' quality. When there is enough high-quality resources, the project flourishes and the performance rates are satisfying. We believe that with the help of regular resources and performance control it is possible to keep the software always fresh, fast-working and satisfying from the users' point of view. 
We often stick to a preventive maintenance approach. In order to be aware of all the possible problems in the system and to be alerted as soon as they arise, we use specialized software. Basically, those are tools, either out-of-the-box or custom-build, that send notifications once they reveal that services have gone down. 
The value of Project Health Checkup
Here in Smartym Pro we've been using the Project Health Checkup approach in many of our long-term software development projects. This kind of approach, if customized according to specific business needs with precision, can become a team's distinguishing and advantageous feature that induces trust and a sense of reliability.
One of the greatest perks we believe regular Project Health Checkup provides is that you as a customer can sit back and get yourself rid of one more thing to care about. Smartym Pro's professional software development and maintenance team takes responsibility for keeping your project up-to-date and future-proof. Moreover, no trouble will ever come aside because we will foresee them and eliminate the symptoms in advance so that the disease won't ever come up. 
Would you rather spend a fortune on defeating the consequences or take actions now and let a team of professionals monitor your project and not let it drown in troubles? The choice is yours!